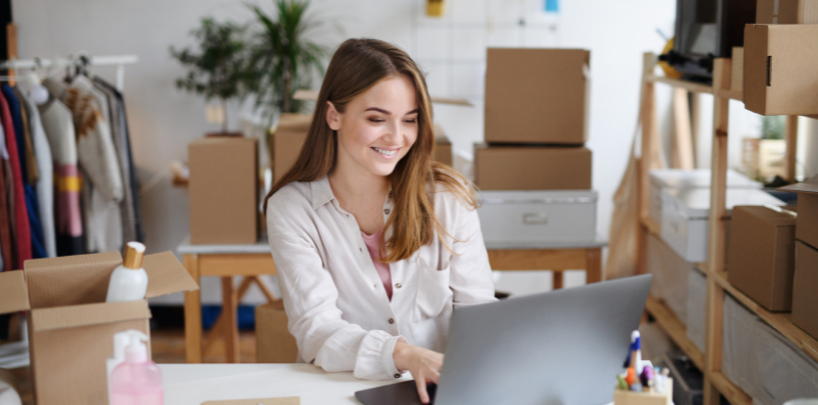 Advantages of Automated Order Processing for B2B Businesses!
The eCommerce industry has been opportunistic for sellers and customers for the past several years. If you are an online B2B seller, you must be aware of the several benefits of this industry. Adopting a business-to-business (B2B) eCommerce model can be more complex in comparison to the traditional B2C model. They often face the higher cost of customer acquisition, while the average buying cycle is usually much longer and it requires automated order processing software. It can simplify the workflow of order processing with a solid strategy. Your B2B business can enhance its operational efficiency and overcome the several challenges associated with this eCommerce business model.

B2B order processing refers to tracking the orders placed by your clients and managing the significant fulfillment processes for them. In this business model, your sales representatives enter the order from your customer into an order tracking system. It can be an order processing software, ERP system, or traditional manual spreadsheet. If you manually process the order, you get caught into significant problems that can drastically affect your online business. That is why it is always better to take the help of automated order processing software such as FlexSmart. In this blog, you will get to know about the significant advantages of automated order processing software.
Benefits of Automated Order Processing Software for B2B Business
To overcome the challenges of the business-to-business eCommerce model, automated order processing software can prove to be a miracle for your business. If you are manually handling this process, it can include several errors that can massively disturb the workflow of order processing. Let's see how automated order processing software can prove beneficial for your B2B business.
Manage Orders Across Various Channels
The most compelling B2B business order processing solution allows you to embrace omnichannel or multichannel strategies with your online business. This means you can obtain orders from numerous businesses and process them with your unique tactics or strategy. This method will save time for you and your valued clients as well by reducing the traditional operational flow such as inventory management, payment processing, order updation, and so on. With the help of automated order processing software, you can view all the orders in a single panel. Your system can effectively extract orders from various eCommerce platforms and put them into a single panel.
Regulate Bulk Orders
Associating with the business-to-business model, you must experience issues processing bulk orders. In this perspective, an automated eCommerce order processing tool can help you immensely. Software like FlexSmart implements bulk order processing for multiple orders. It can help you even print the invoices and shipping labels separately for every order. Processing your orders in bulk can also save you precious time and money. Eventually, it can let you satisfy your customers or clients as well.
Reduces the Human Errors
The primary benefit of an automated order processing system is that it automatically eradicates human errors. It is evident that if you handle the eCommerce operations manually, it will include some errors. It can be related to anything, but it impacts your business significantly. In this regard, automated order processing software can quickly diminish human errors. The customers you are dealing with will never accept any errors in the path of order processing. That is why it is essential to take advantage of an automated one. It will help you improve your business's efficiency by making your data easily accessible from anywhere in the world.
Reduces the Complexity of Inventory Management
Whether you are dealing with a B2B business model or B2C, it doesn't matter. Inventory management is crucial for both of them. To reduce the complexity of inventory management, you have to keep track of that on a regular basis. If you are receiving orders on a daily basis and are not able to fulfill them with immediate effect, it can have a negative impact on your business. Possibly you may lose your valuable customers as well. In this scenario, an automated order processing system can help you keep an eye on your inventories in real-time. In this way, you will never get late in delivering significant orders to your customers or other businesses.
Smart Order Tracking
You will be in a great position to keep your customers happy and satisfied by tracking your orders adequately. Smart order processing software such as FlexSmart can help you track your orders from anywhere. With the help of this significant feature, you can let your customers know the exact location of their orders in case of any delay. Customers will mostly want to know when their products will arrive at their doorstep. So, to answer these queries of theirs, you need to have tracking software.
Faster On-Time Delivery
The eCommerce industry has become similarly competitive for every business model, whether it is B2C, B2B, D2C, or any other one. Faster delivery is the demand of this online shopping industry. That is why you need to find efficient ways of faster delivery. In this way, automated order processing software can make it possible for you. You need to understand that for faster delivery, you first need to accelerate the whole process of order processing. Once the operations are on track, you will only be able to deliver the orders faster and more time to your customers.

Thus, these above are the enormous benefits of automated order processing software that is technically designed to process orders skillfully. Competition is indeed higher than ever in this industry, and there is no way you can compete with your rivals without the help of any advanced order processing tool. You need to automate this process to make your customers believe in your service. It can help you provide a high-quality customer experience, boost your sales, and generate handsome revenue.


Conclusion
Automated order processing software is a need in this modern eCommerce industry. It provides customers with the fastest, most customized, and errorless order processing and fulfillment experience. Being a business-to-business seller, you constantly have to think about bulk order processing with speedy delivery. Bulk orders are the primary aspect of B2B business, and to process them expertly; you need an automated solution. Apart from that, inventory management and order tracking are also essential parts of this business. It can also get accelerated with smart software available in the market. Order processing software such as FlexSmart can help you process large orders such as home appliances, gym equipment, and others as seamlessly as regular orders. So what are you waiting for? It is time to take your business to the next level and add golden feathers to your B2B business.
---
---
---