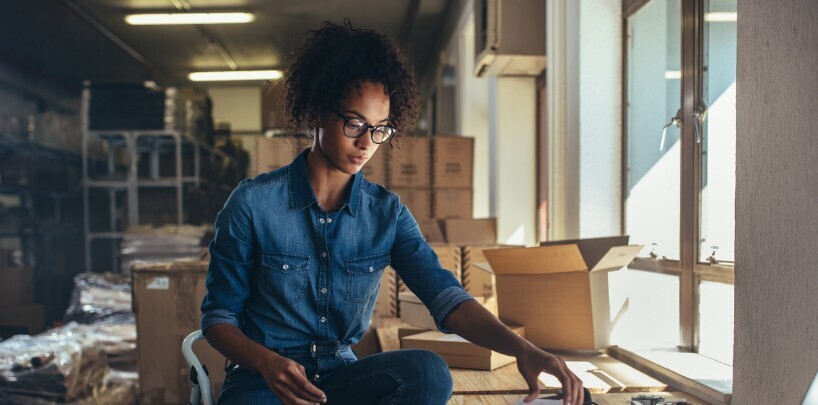 How To Organize Bulk Order Processing in eCommerce
Introduction to Order Processing
Order Processing is the activity of fulfillment performed to accomplish the orders received from one or more eCommerce channels. In this regard, many components are required to achieve on-time to establish better customer experience and ensure regular conversions. As multichannel offers a significant aspect of business expansion and operations, it also needs almost every segment of the process to be fast and transparent. eCommerce business is rapid in bulk order scoring and requires the best advantages to the people. 
These bulk and fast deliveries cannot be performed manually. Then what is the secret behind each order delivering on promised time at every customers' doorstep? eCommerce Automated Order Processing Solution. Only artificial intelligence tools can let the seller provide all the orders and fulfill all the wishes effectively and efficiently. Let's learn about some fantastic assistance software impact on eCommerce Order Processing. 
Contribution of Automation in eCommerce Bulk Order Processing
Initiate Multichannel Bulk Orders Simultaneously
eCommerce offers so many order fulfillment opportunities in a single minute. Suppose the seller is operating on more than one online platform. They would require a strong order processing efficiency that could allow them to effectively satisfy all the customer's demands. Here, an eCommerce order processing tool helps immediately accepting the orders and initiating the process on a real-time basis. If this gets late, the rest of the processing is delayed automatically. But with a software tool, you can process this anytime and anywhere. 
You must have seen the Amazon marketplace bestseller tag over some products. This can be achieved if one of the business operations i.e order processing grets immediate and satisfactory as per the customer's point of view. This means you have to get advanced with artificial intelligence and improve your service in every way. 
Software method of order processing means doing some critical tasks through server-based tools in no time and effort. This automated system prepares the bills for each order received from different eCommerce channels without errors. You would get this information saved for future use that could help you analyze your fulfillment rate as per the conversions. 
Along with this, the best advantage is getting error details for all the orders. Details of any location, category, or channel will be present on a single dashboard. You never have to compromise on errorful data-entry and delayed delivery because this facilitates further process with ease and accuracy. Regular comparative analysis is another perk that a software order fulfillment system offers to online sellers. 
Flexible and Filtered Product Pick up
Filtered and Flexible Product pickup means sorting products category as per their warehouse and location of delivery. Automation helps eCommerce sellers quickly filter out the picklist for separate bulk orders. They do not have to manually make a particular chart for different pick lists. All these processes are done in real-time. This does not involve human actions in preparation. It gets automatically generated as per the product sorting and sent to warehouses to strong product pick-ups. 
This mechanism is transparent and quick in performing the product picking up task. Faulty picklist means wrong packaging; wrong shi[pping label means wrong delivery. Eventually the whole process would get disturbed and would hike the working expenses because of repetitive work. This affects the regular operations of the seller. It would burden the seller with unproductive jobs. That is why apply some innovative solutions that guarantee you correctness and quickness in performance. 
Customers wait to know how long their order would take time to get fulfilled. Sellers can build a technology to constantly update their customers about the confirmation, dispatched and delivered scenarios. This will help them improve their customer experience. Nowadays, customers are advanced and aware of technological impacts on their service. If you miss this stage, that will impact your image. 
Keep your business tool authentic and immediate in processing such additional services. These additions enable your customers to engage with you better and trust you every time. Automated tools provide sellers with ease to strengthen their business capacity. They will not struggle with slight but essential task efficiency through computerized techniques.
Shipping labels are the tags attached to the package after sorting. This contains details such as final address, warehouse address, product info, etc. This is the last banner through which delivery is made. If any information on it gets incorrect, the whole process of fulfillment gets wasted. This also results in resource wastage. 
This is the last segment of processing through an automated solution. This allows shipping processing to be correct and impressive each time for each order. No seller loses control over their shipment method due to cloud-based information. All the details of orders are covered on a solitary dashboard. 
Conclusion 
In the long run, what remains is the service you provided to all the customers who associated with you and trusted you. If you manage to build a strong relationship with each of them, you are ensuring the long-term survival of your business. Remember, customers who come again for purchase are loyal, and you should not miss any chance of impressing them. 
Any deal that is going ineffective will lead you to lose out on your potential customer to the rivals. Do not get trapped in that mistake ever. What best you can do is engage more customers and provide them with the best purchasing experience. This modern era needs technology solutions for technical problems. Hence, please choose the best eCommerce business management software for you that could grab higher deals and efficiency to fulfill them incredibly.
---
---
---